The Empire Casino | London, England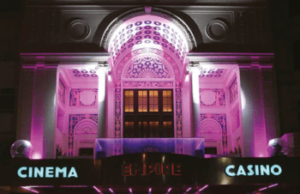 Considered to be one of the best gambling hotspots in the entirety of the UK, The Empire Casino spans a 55,000 square foot area with a multitude of games that are run on a 24-hour basis. This operating style transports casino visitors to a world that is not dissimilar to the glitz and glam that is common in casinos spread across the globe.
Launched in 2008 by Caesars Entertainment Group, the casino is the main focal point in Leicester Square. However, visitors will also be able to take advantage of five bars in the casino as well as a restaurant and cinema. Alternatively, visitors can immerse themselves in any one of the entertainment opportunities on offer or join the casino rewards programme to earn points for playing the game of chance.
Play three card poker, Blackjack, Punto Banco, or American Roulette at one of their 31 different tables. Visitors who are less experienced with the intricacies of table games may want to try their luck at one of the 20 slot machines located on each floor of the casino or at one of the 90 different electronic roulette machines.
Gamblers of all kinds will be able to experience the ultimate entertainment at The Empire Casino in Leicester Square London. Beginners to seasoned bluffers will find the ideal game in the confines of this fine establishment.