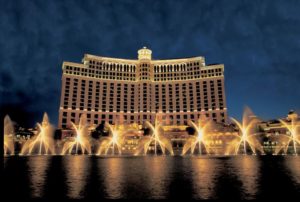 The Bellagio is a casino, hotel and resort situated on the famous Nevada strip in Las Vegas, United States. This impressive resort offers its guests a plethora of entertainment options including a comfortable place to rest their head after a long day of gaming. This casino was expertly designed and decorated by a team of experts before they opened their doors in 1998.
Besides being a hub for decor enthusiasts and gamblers alike, The Bellagio is also the home of the world-famous Cirque du Soleil. Guests will have the option to enjoy a gravity-defying performance at the theatre or sit back and relax in the spa tower. Alternatively, visitors can head out into the grounds and take a gander at the impressive dancing water features that are synchronised to music.
However, the true attraction of The Bellagio is their casino. They stand out from the rest due to their Poker room, which many professional gamblers refer to as 'The Office'. The Poker Room has gained this moniker due to the high stakes Big Room as well as the high table limits. Visit The Bellagio and take part in a tournament or simply enjoy the intricacies of the game.