Rio Casino Resort aka Tusk Rio – Klerksdorp, South Africa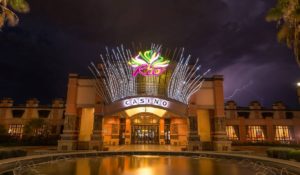 Gambling enthusiasts can head over to Klerksdorp in South Africa and visit the Rio Casino Resort, which is also known as Tusk Rio. The 266,370 square foot casino space was taken over by gambling magnates at Peermont Group in 2006. They quickly expanded and took over a neighbouring hotel. This earned them the prestigious title of the largest casino complex in the entirety of the Southern Hemisphere.
Guests who frequent the Rio Casino Resort will be able to take advantage of any one of the three restaurants located within the casino. Although they offer fine dining experiences for a myriad of tastes they also have entertainment options available for the whole family. Visit their live entertainment venue, children's arcade or get the adrenaline pumping at the Tusk Rio go-kart course.
The true beauty of the Rio Casino Resort becomes apparent when guests visit the casino floor. They have approximately 274 different slot machines that allow gamblers the pleasure of seeing the fruit roll. They also have 12 different table games available. Some of the popular table games at the Rio Casino Resort include Poker, Roulette and Blackjack. Additionally, there is a high-stakes lounge which allows high-rollers at the casino to take part in an exclusive gambling experience.