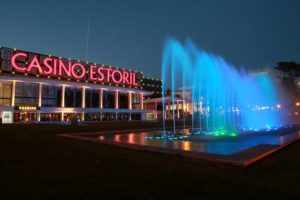 The Casino Estoril has a long and proud history. The first cornerstone for this resort was placed by former Portuguese president Dr Berdardino Machado in 1916. Since they were officially opened they have continued to grow from strength to strength and are now considered to be one of the biggest operational casinos on the European continent.
Besides being a hub for gamblers, they also offer their guests a diverse programme of special events. These include musical performances as well as sporting events. Located on the picturesque Riviera of Portugal, guests will have the option to head out into Lisbon to explore the cultural life as well as outstanding restaurants located near the Casino Estoril.
Visit the Casino Estoril to take part in a wide variety of table games. Some of the popular options at this resort include Punto Banco, Baccarat, Roulette, Banca Francesa, Poker and Blackjack. Fans of the game of Poker will even be able to take part in tournaments over the weekends.
The Casino Estoril is also a hub for slot machine players. This Lisbon casino has a collection of 1,100 slot machines that will help any player have the time of their lives. Additionally, players can take a chance on their Video Poker machines and Jackpot Slots.