Casino de Monte-Carlo | Monte Carlo, Monaco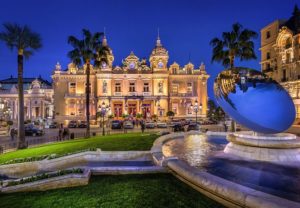 Monaco is the gambling capital of the world and the Casino de Monte-Carlo has been solidifying this reputation since it was opened in 1858. This historic casino which can be found in Monte Carlo, Monaco, will help the average gambler put themselves in the shoes of European Royalty of yesteryear.
Owned by Société des Bains de Mer, which in turn is owned by the Monaco government and royal family, the Casino de Monte-Carlo forms a part of a chain of sports clubs, restaurants, hotels and nightclubs in Monte Carlo. This means that visitors at the casino will be able to find a range of entertainment options with ease. Whether they are looking for a hub for fine dining or want to kick back while watching the Grand Prix, there is a solution to be found around the casino.
Guests with an avid enthusiasm for gambling will be able to take part in a variety of activities in this Monegasque casino. Popular options include a variety of Roulette games, slot machines, Trente et Quarante, Stud Poker, Video Poker, Baccarat, Craps, and Black Jack.
The Casino de Monte-Carlo is the perfect destination in Monaco for individuals who are seeking the ultimate gambling opportunity that is a combination of fun and class.