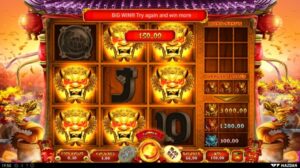 An online casino site called Playamo recently hosted a jackpot prize won by a player who made only a $50 bet on the website to win the prize. A small bet on Wazdan's 9 Lions was the beginning of what ended with a €20,000 payout to the winner. After the video slot game was released to players in 2018, 9 Lions won the G2E Asia Hot Product Award, and soon became one of the most popular slot games among players all over the world.
The Big Win
The customer hit the Dragon's Bonus at Playamo after spinning for €50. It was hidden inside a dragon egg that the player picked. As part of this online slot game, you have the chance to score a 1000x bet bonus when you play the dragons. The player won 400 times the amount of money they wagered this time around.
According to Wazdan's Head of Sales, Andrzej Hyla, Wazdan is ecstatic to see such a large amount of money won by a player who played 9 Lions on their platform. It was a real pleasure for players to see that their decision to play on the 9 Lions video slot had paid off most generously for the winners. Furthermore, it was also a real treat for Wazdan to see that both players and operators were equally thrilled with this game from the very first spin.
Playamo hopes to announce even more interesting and exciting big wins like this one in the near future.
Players here really seem to enjoy the user experience and design of the website that is associated with this online casino where the win occurred. Furthermore, Playamo also has over 2,000 exciting casino games on offer in addition to the classic options, slots, table games and live dealer games, that you can play for real money.